How to Get Involved
Public Involvement Reach
Public involvement is an important part of the Multimodal Transportation Plan. Here are a few of the numbers behind the participation achieved so far as part of this effort.
1,635

'likes' on Facebook

725

event attendees

Twitter followers

385,750

Facebook + Twitter
unique accounts reached
Stay In Touch
Here are several ways for you to stay informed of the latest project news and updates.
Past Outreach & Engagement Activities
Virtual Town Hall Meeting
The SA Tomorrow Multimodal Transportation Plan held a virtual town hall meeting on Monday, November 30, 2015, from 6:00 to 7:00 p.m. The virtual town hall was an opportunity for citizens to discuss transportation in San Antonio and what makes a great street with several City leaders involved with the SA Tomorrow planning initiative.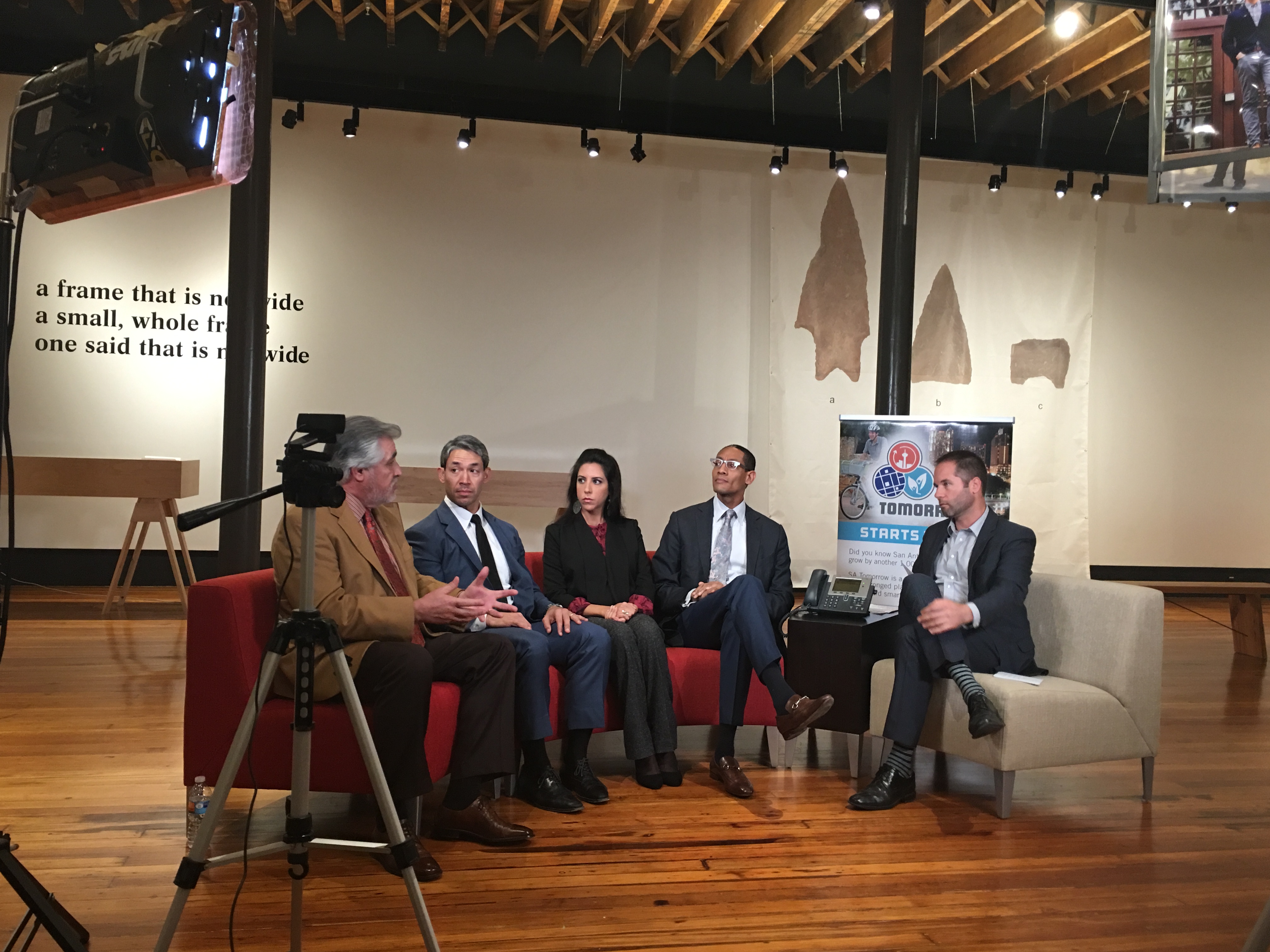 People were able to participate via the internet or from one of four viewing sites. While the virtual town hall was an online forum, the viewing sites option allowed people to be part of the event from a location in their community. The following is an audio recording of the virtual town hall meeting.
Community Events
Our goal is to reach and involve as many people in our great city in the transportation planning process. To that end, we are actively presenting to existing groups and organizations and participating in community events. We have participated in two major events so far and plan to participate in the Fall Siclovia event later this year. To learn more about these events, click on the links below.
Fall 2015 - Siclovia and Bike Octoberfest - The SA Tomorrow Multimodal Transportation Plan team participated in the ninth edition of the Sunday celebration of fitness, play and community, as well as the Bike Octoberfest 2015. Our team invited the public to share their ideas regarding what makes a great street. People were also encouraged to take the Vision Zero Safety Pledge.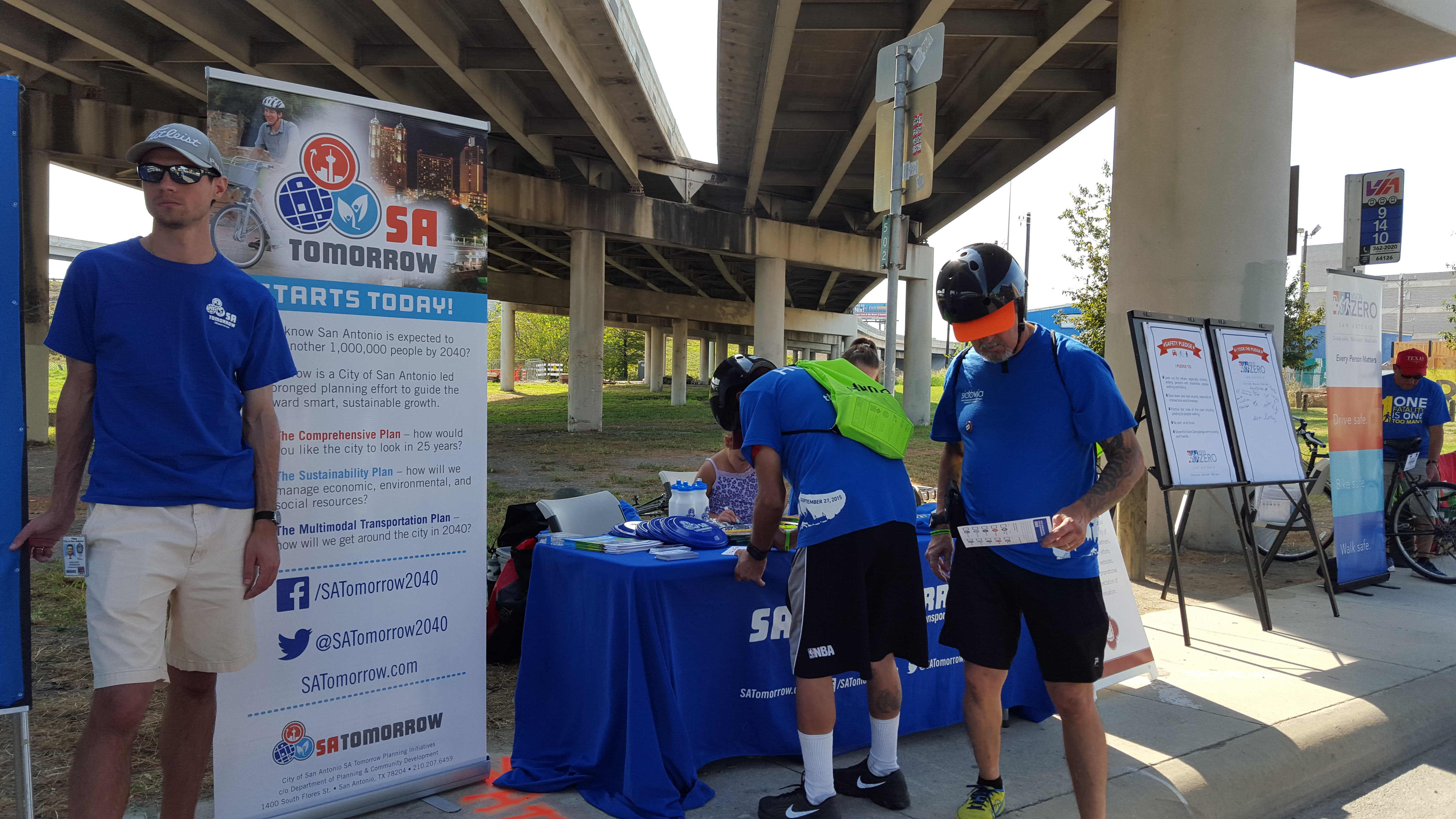 Presentations
Would you like us to come to your neighborhood association, club, or business meeting to give a presentation about the SA Tomorrow Multimodal Transportation Plan? Just send us an email request to info@SATomorrow.com. So far, we have presented to the following organizations and we are always looking to add to the list!
Active Living Council
Alex Briseno Leadership Academy
American Institute of Architects
Bexar Regional Watershed Mgmt and Improvment WIAC Meeting
Disability Access Advisory Committee
District 8 Neighborhood Associations Meeting
Greater San Antonio Builders Assoc.
Leadership SA Infrastructure Meeting
Northeast Rotary Club
Neighborhood Resource Center Annual Neighborhood Conference
Northeast Comprehensive Senior Center
Rotary Club Airport
Rotary Club of San Antonio South
San Antonio Board of Realtors
San Antonio Greater Chamber of Commerce
San Antonio Hispanic Chamber of Commerce
San Antonio Manufacturers Association
San Antonio Transportation Society
South San Antonio Chamber of Commerce
UTSA ITE Student Chapter
VIA Transit Meet Up
Women's Transportation Seminar
Women's Wrench Night
August 2015 Webinar
The Transportation Matters webinar took place on August 11, 2015 and offered an opportunity for citizens to ask questions and provide input about future transportation challenges, choices, and funding options. The webinar wrapped up a series of open houses regarding the City's Multimodal Transportation Plan. Open houses occurred in person and online and offered an opportunity for the community to give input on transportation priorities and funding.
This webinar, shown below, is part of the SA Tomorrow initiative that is underway to prepare for the additional 1.1 million people expected in San Antonio between now and 2040.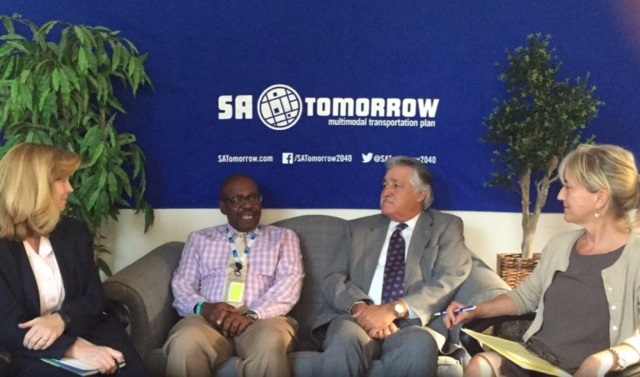 The webinar panel included:
Ray Lopez, District 6 Councilman;
Terry Bellamy Assistant Director, City of San Antonio Transportation and Capital Improvements (TCI);
Trish Wallace, Manager, Regional & Transportation Planning, City of San Antonio; and
Kerri Collins, Vice President, Transportation Planning/Engineering, Parsons Brinckerhoff.
July/August 2015 Open House Events
The study team spent the summer taking the show on the road to various libraries and community centers. Participants were able to join the study team at one of seven locations across the city over lunch hour or after work. The open houses offered an opportunity to provide input before the study team starts to develop strategies to promote safety, manage congestion, preserve the existing system, ensure system reliability, and maintain our city's quality of life. Participants at the open house events were greated by a short video and were asked to visit six different stations. The video and station information is provided below.
Participate in an activity to convey how you would spend limited transportation resources.
Provide feedback on transportation goals proposed for inclusion in the plan.
Comment on potential options that could generate more transportation money.
Share your ideas on what should be emphasized on different types of streets.
Review the findings of our existing conditions review and provide your feedback.
Take a look at the corridors selected for further study and provide your input on transportation needs.
Kick-Off Event
The official kick-off event for SA Tomorrow was a family-friendly event held on Saturday, April 11 at the Alamo Convocation Center. The free event was designed to give the public the opportunity to join the conversation to discuss transportation needs and visions for 2040. Following are the Multimodal Transportation Plan exhibits displayed at the event as well as a photo slideshow. Please feel free to see the oucomes in our Kick-Off Summary Report. Due to the size of the file, appendices are available upon request.
Online Survey
The City of San Antonio conducted an online survey asking residents to weigh in with their opinions on transportation and other quality of life issues. The survey is just one of the ways we are engaging people in the planning effort. The survey was available from April 11 - June 1, 2015. We received a total of 3,361 responses and of those, 2,656 respondents answered every question. Click here to view the survey report in its entirety.
Press Conference
On March 25, 2015, the City of San Antonio announced they will begin planning for an additional one million people expected to live in San Antonio by the year 2040. The press conference was attended by numerous members of the media and the general public.